activities
an holistic overture
life cycle assessment (LCA)
Life cycle assessment, is an approach (ISO 14040 environmental management – life cycle assessment – principles and framework) to becoming mindful of how product or service life, from the the raw material extraction, material processing, transportation, distribution, consumption, reuse/recycling, and disposal affects the environment. The life cycle thinking is the overall idea for making this holistic evaluation as a tool for developing a forward thinking strategy!
Our chemists and biologists will provide you with LCA professional tests and reports, sustainable product hotspots, outlooks of materials, LCA design models, product and service declaration (EPD environmental product declaration) or eco-certification (ecolabel, PEF, other), in order to address the requirements of new products and offer solutions for the improvement of your existing products or services.
Sustastainable product hotspots
 The purpose of the Environmental Hotspots of the product (or service), developed in compliance with ISO 14040 e 14044 international standard (life cycle assessment LCA), is to help you determine the relative importance of environmental aspects in materials, processes, value chain in your product or service system. Characteristics of the inputs and Environmental items that you will use in the re-design (eco-design) process.
"Outlook" of material
The "outlook" of materials helps you to determine the eligibility of current materials or components in your produc/service system for the next step of re-design or eco-design. It includes figures and information about environmental characteristics of the materials and current developments of the scientific research system to improve or replace the old materials.
LCA design tools
LCA design tools include the dynamic parametric model to help you in the ecodesign process. It is designed in compliance with ISO 14040 e 14044 international standard (life cycle assessment LCA), and has the purpose to assist you to balance solutions and new concepts (see environmental hotspots) in your innovation process. It includes all environmental aspects recommended by European Union.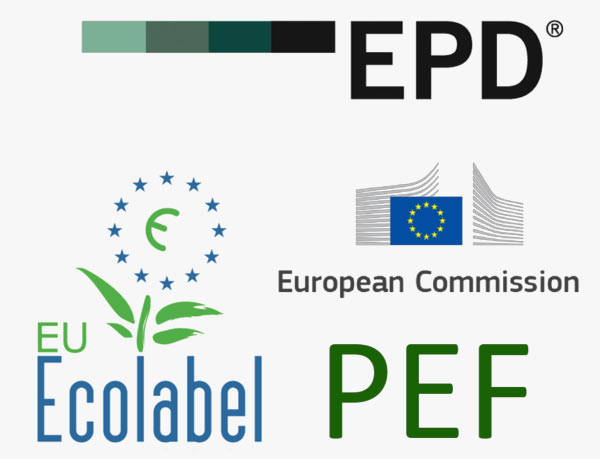 EPD Environmental Product
Declaration (ISO 14025), Eco-labels (ISO 14024), PEF/OEF
EPD Environmental Product Declarations (ISO 14025)
present transparent, verified and comparable information about the life-cycle environmental impact of products. The International EPD® System is a global programme for such declarations based on ISO 14025 and EN 15804.
Eco-label (ISO 14024)
ISO 14024 – Eco_label refers to Type I environmental labelling programmes, which are voluntary and is a third-party assessment of a product based on a number of criteria involved in the environmental impact of a product or material throughout its life cycle.
PEF/OEF (Product Environmental Footprint / Organization Environmental Footprint); the European Commission established two methods to measure environmental performance throughout the lifecycle of the Product (PEF) and the Organisation (OEF);.